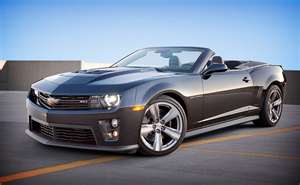 Click to Donate $50 to my CAMARO DRIVE now!
Miss Kay needs a hot new ride for 2012 and beyond! Specifically, a new Chevy Camaro 2ss. I haven't picked my color yet, sometimes I like red, then I like blue. stripes? The salesman was very excited while we were going for a zippy test drive in a new black Camaro, since I wore the shortest of skirts and a cleavage popping skimpy top. Can you picture me cruising around in a new Camaro? Well stop picturing and start making it a reality, moneyslave bitches! Click on my Miss Kay's CAMARO DRIVE tribute button, in fact click on it over and over. Click till I have all the cash I need for my new Camaro! Click the Camaro above for $50 Tribute or use one of the CAMARO DRIVE tribute buttons below to donate more car pay piggies!

I keep playing my favorite Camaro songs on my iPod. But I can't wait to play them while I'm driving in my new Camaro. Songs like Camaro by Kings of Leon, they rock! My next favorite Camaro cruising song? Go Lil Camaro Go by The Ramones ! If there was a Camaro hottie contest, you know I would win hands down or rather, windows down in my new Camaro 2ss. Where should I take my Camaro on its first drive, besides the beach? I know, Vegas! I'd love to drive it 90 mph all the way to Sin City, Las Vegas. You know I could just talk my way out of any speeding tickets or hypnotize the patrolmen with my huge DD breasts. So click my CAMARO DRIVE tribute button now.