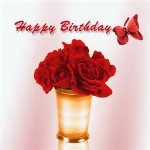 Happy Birthday to Me, Miss Kay! My birthday is only 30 days away bitchboys, so get out your credit cards and start spending to make it a very happy birthday for the Money Domme!  Click Tribute buttons or buy eGiftCards for me now, be good cash cows.   My birthday only comes once a year and that means that once a year you money slaves should go overboard and show your Money Domme how much you appreciate her in your life by giving till you have nothing left to give.  Max out your credit cards.  Let's see who the spendiest money piggie will be and who rewards his Financial Domme with the most cash or gift cards.
I've been following other Financial Dommes on Twitter, so I know how much their slaves give them on their birthdays.  If you are meager and stingy or don't send a Tribute or buy a Gift Card, you are an embarrassment to me, a failure as a money pig and I will block you on Niteflirt.   I have an Amazon Wish List and I expect it to be emptied!  Besides, you know how much it thrills you to spend $$$ on me and by thrills, I mean I know it makes your money piggie dickie hard.  The more you spend, the more thrills you get, so start gift giving or tributing now!
Calling me on Niteflirt is nice, it's expected, but spending money on calls does not substitute giving me Gift Cards or sending me Tributes for my birthday.   I will be checking my email twice daily and I better see eGiftCards and Amazon purchases rolling in!  Spoil me now!