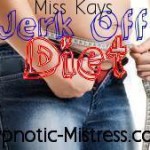 So many of you fat, out of shape losers, and you know you are, need to lose weight right now. I am disgusted from seeing pics you money slaves have sent me showing that you money piggies look more like real pork piggies. I have developed a financial domination weight loss regimen for you to lose the lard. This involves intensive masturbation, yes, you read that right, even more masturbating than ever, to lose weight! And you will pay for the privilege. This program will cost you, but it will be worth its "weight" in gold. If you need hypnosis to guide you toward losing the "lbs" and to maintain weight loss, then I will include that in your personalized masturbation weight loss program. You must get in touch with me now so that I can design your masturbation exercise regimen and get you started. I will do this via a Niteflirt PTV. Don't you want to indulge in more masturbation and see the results as you lose weight? It's not magic, it's metabolic.
You have never experienced anything so intense and controlling, yet allowing you to give in to your compulsion to masturbate instead of giving in to your compulsion to eat! I'm sure some of you money piggies made New Year's Resolutions that you have already broken when you stuffed your face with chips, dip, wings, ribs and beer while watching all the football playoffs. Your compulsive eating has to stop! The only compulsions you will be permitted are sending me Tributes and masturbating to your weight loss program!
You will be trained to decrease your eating while increasing my bank account.